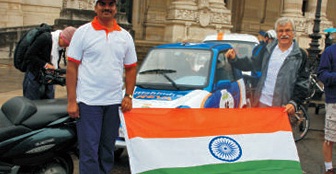 "You see things; and you say, 'Why?' But I dream things that never were; and I say, 'Why not?" - George Bernard Shaw

The World Advanced Vehicle Expedition (WAVE) is a rally, from Paris to Prague, organized by Mr. Louis Palmer. It ranges across eight countries, covering a distance of 2963km over 30 cities within 15 days.

Under the leadership of Mr. Vinay Kumar T from the CCC Department, the WAVE electric vehicle was created for this rally by Mr. Nagendra Babu, a specialist in iEMS and CAN protocol development, from R&D and Mr. Deepak Bondaday, a support engineer, from CCC.

Determined as they were and 'Accepting No Limits', they took up the challenge at hand and went on to develop an EV that could run longer distances, typically in the 180km range, while accommodating two people and their luggage. It possessed the power required to overcome different roads at the speed of 104kmph in motorways and on highways in Europe and in India whilst overtaking at higher speeds with a charge time of just 2.7hrs.

A competent team in place, the Wave vehicle started off at Paris on 11th September and without encountering any failures during driving or charging, it crossed the finish line at Prague on 25th September. The WAVE EV was, undoubtedly, on the road to Rise, being ranked 2nd in Usability, 3rd in Efficiency and Easy Parking, and 4th in Range, Acceleration and Charging, a victory of sorts. Team WAVE has made us proud!