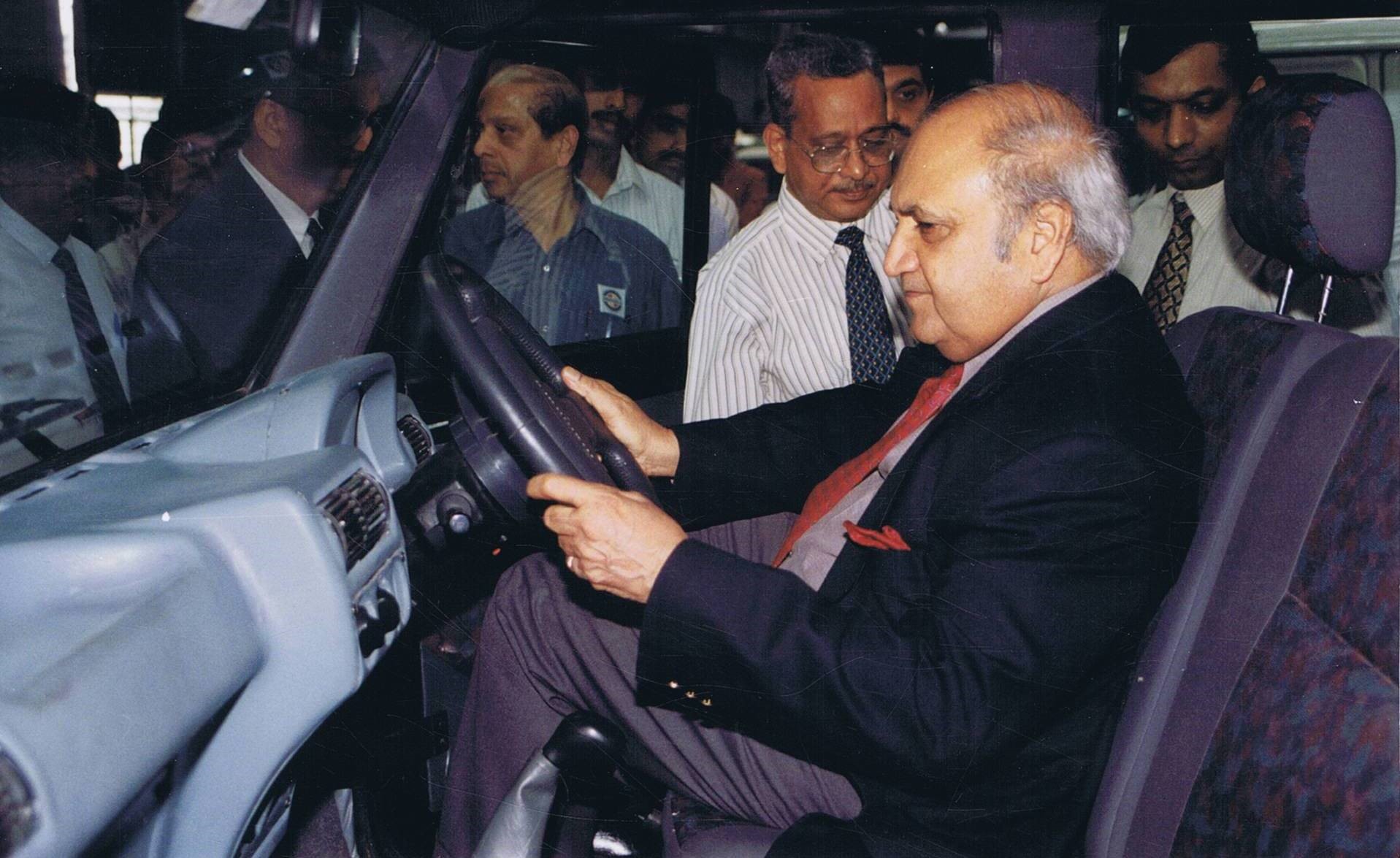 This is story on 'Product development', with photograph of chairman
during launch of 'Bolero' prototype in 1999 at R&D Nashik.
In late 90s, Mahindra Armada was an ageing model. The idea came up to freshen up by giving new look for the front of Armada.
Accordingly a handmade mock up for front look was prepared.  This mock up was shown to chairman Shri. Keshub Mahindra, during his visit to R&D Nashik in 1997. This front look had flat windshield since Armada cowl was suited for flat one.
Chairman did not like the new front look with flat windshield and questioned why we cannot have curved windshield like all modern cars and SUVs. Our reasoning of design and manufacturing limitation due to use of existing cowl of Armada, was rejected outright by him. Chairman insisted that new look must be with curved windshield only.
This was a challenge for design as well as manufacturing. The team accepted and with help of Cad Cam, modern die shop and ancillary support new look Armada was worked out, based on flat cowl.
The final tooled up prototype was shown to chairman in 1999. He was satisfied; he drove the proto and also gave some suggestions.
There was continuous follow up and guidance to the team by seniors;  Anand Mahindra , Alan Durante and Pawan  Goenka for success of this project.
This new look vehicle with new features like independent front suspension, power steering, AC , Power windows , improved NVH etc  was christened as 'Bolero' and launched in 2000.It was a great teamwork.
This model has proved to be a big success in market, even today.
The chairman's foresight and vision for styling and modernizing the products then has proved to be a guide post for development and launch of subsequent Mahindra models; Scorpio, Xylo and XUV 500 which could compete with contemporary models in the market.
D.A.Shaikh
9860403213