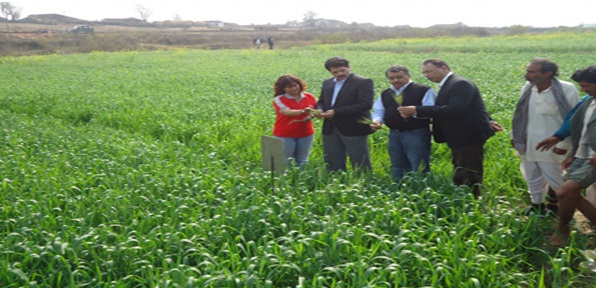 Damoh, Madhya Pradesh, is a tribal region that has 65% of its land covered by forest, and 20% of its land under cultivation. The population relies on subsistence farming, collecting Tendu leaves from the forest, and making bidi. Availability of water is a challenge in the region.
In order to solve the water problem, the Strategic Planning Team and the Mahindra Samriddhi Team, Farm Division, Madhya Pradesh, collaborated with the state government in their Integrated Watershed Management Programme. The objectives of the project have been to ensure availability of water, environment sustainability, better living standards for farmers, and to create livelihoods. In spite of several obstacles, the team has 'Accepted No Limits' and has overcome several challenges. At present, the following has been achieved: [a] planning on the basis of inclusive decision making, [b]conducting a baseline survey, [c] forming self-help groups, and [d] building trust with the community through construction and renovation projects.
In addition, collaborations with universities, conducting seed replacement and production programmes, offering soil testing services, implementing innovative-farming techniques, and consulting subject-matter experts have assisted the farmers. Hence, the teams are 'Driving Positive Change' owing to which our farmers have started to Rise. And, when their lives will change, a new Damoh will certainly emerge!