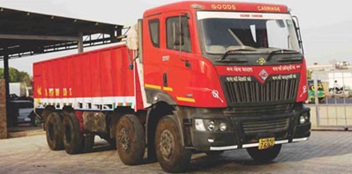 Understanding the market requirement of driver's training program, Mahindra Navistar Automotives Ltd. made an offer: Training for 2 drivers with every truck sold. MNAL also started to train drivers from the open market, to build a pool of drivers with the right attitude and skills..
MNAL decided to create a pool of MNAL trained drivers to be employed by key customers. The first step was to do an environmental scan and meet concerned people in Govt. of India, auto OEMs, and driver training schools to understand the issues and develop a strategy to address them. The obvious solution was to identify and provide driver's training to the people interested in taking up driving as a profession - which is a time-consuming and costly process.
. MNAL came out with a novel approach of looking at people who were already holding a HCV driver's license and approached the Armed Forces for sending out their early retirees, and civilian drivers looking for a skill upgrade.
MNAL designed a 6-day unique program consisting of product familiarization, defensive, economic and practical driving modules. So far, 120 personnel have been trained, and the list of trained drivers has been made available to dealers and key customers. Nine of the trained drivers have been employed by customers.
Based on feedback and requests, MNAL expanded the pool to accommodate customer drivers for MN25s and MN31s. A compact four-day program with greater practical focus was designed for them where 80 customer drivers have been trained in the last four weeks.