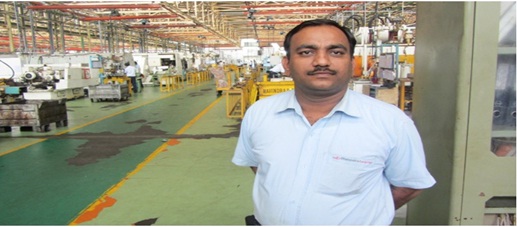 On the shop floor, safety of human life plays a very important role. It starts with wearing protective gear and following certain safety procedures. Even after taking numerous precautions, there are possibilities of accidents and each person on an individual level has to take cautionary steps to avoid them.
A noteworthy action was taken by Mr.Vikas Zope at the Mahindra Forgings plant at Chakan to keep the employees safe. Mr. Zope has been a dedicated employee in the Mechanical Maintenance department for the last five and a half years.
At the forgings plant, several hoists are used to carry heavy material and equipment. The hoists weight approximately 200 to 300 kilograms each .The maintenance department checks all the hoists on a daily basis, but it is difficult to keep a tab on the intrinsic parts of the machine as it is continuously at work for all the three shifts, that last 24 hours a day to keep up with the production.
One day, on the shop floor, a 300kg hoist suddenly fell down. Luckily, no one was hurt but Mr. Zope could not take the risk for the next time. He immediately took action and narrowed down on the causes of the hoist giving way. It could either be due to wear and tear of the internal machinery or due to sudden loosening or breaking of the bolt holding the hoist in place. Even though daily checks are held, mishaps can still occur and in order to prevent accidents he devised a simple and inexpensive solution.
He realized that if he made a contraption to prevent the hoist from falling on the ground below, it would prevent accidents from occurring on the shop floor. He looked at various options and selected a thick and durable wire rope to support the hoist and attached the equipment. Now, if the hoist broke loose, this setup would prevent it from falling on the individuals and equipments below.
This setup has been in place for several months and has made the work environment safer. It is really commendable to see Mr. Zope's 'Alternative Thinking' and how this economical solution saves priceless human life.