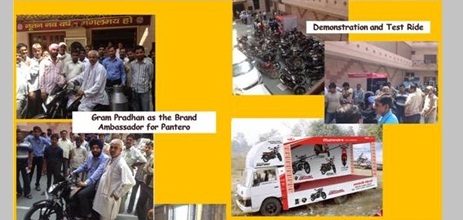 As the name suggests, the story is set in the Indian state of Haryana. As customers ride Mahindra's brilliant manifestation of a bike- The Pantero, they proudly assert their claim by saying, "Marho Pantero." When translated in English, it literally means 'My Pantero.' In order to explore their journey, let's go back to the start.

Inderpal Soni, CBM and Shweta Kharbanda, ZMM North visited the new Mahindra Two-Wheelers dealership at Narnaul. They analysed the sales data from over 2 years and saw that 8 Pantero's were sold in Narnaul, out of which three were sold to a native milkman and one to a sweet maker. Concluding that the city is a potential market for two-wheelers, they realized that there wasn't sufficient awareness created about Mahindra Two-Wheelers.

This conclusion gave birth to an idea. They organized an event and invited milkmen and sweet makers across Narnaul to the event. The objective was to comprehend their needs and to increase awareness. The turnout was encouraging, with almost 100 individuals gathering to participate.

While interacting with the natives, the team took notice of the fact that the milkmen and sweet makers who commuted daily on bikes were highly influenced by characteristics such as average, durability, power and fuel efficiency while choosing a bike. The Mahindra Pantero was already embedded with such impeccable records in these four fields, thus creating a win-win situation! The dealers also customized the bike with an attached basket to hold milk cans weighing up to 20 kgs on each side for demonstrations and test rides. They invited the 'Gram Pradhan' to take a test ride too, as they knew that his decisions and opinions influenced all.


As we grapple with tricky marketing jargons and devise complex strategies to sell products, this initiative certainly proved to be more effective than any ostentatious media campaign. The team sold seven Panteros and have four Pantero bookings too! They definitely displayed their capacity to 'Think Alternatively' and 'Drive Positive Change' in the lives of their customers. Apart from being known as the municipal council and headquarters of the district of Mahendragarh, Narnaul will soon become a thriving hub for Panteros!