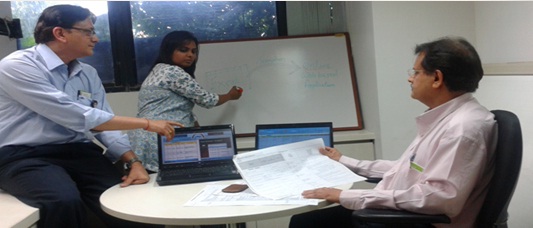 The famous adage, 'United we stand, divided we fall', has passed on through generations. AFS has oft demonstrated unity, in their team efforts, to cope with the various challenges that they face. The fruitful outcome of these efforts are beneficial to many, as we can see by example of the web-based online capital budget system, developed by teams from FD Manufacturing, FD Research and Development, AD IT & Corporate Project Engineering, on their own accord!

The team in place, consisting of Pankaj Daptardar, Nitin Korlekar, M Sonaichamy, Amol Deshpande and Joseph Richelle, was formed proactively, without any mandate, to achieve a goal that did not form a part of any of their KRA's. Budgeting was carried out by the use of Excel sheets, which lacked security and robustness. The common interest of this team was to develop and implement a good system for organizational benefits, without the fear of failure. Getting it right the first time, this online system has been successfully operational since the past two years, 'Driving Positive Change' due to its versatility.

By their 'Alternative Thinking', the team created and still manages this genius system without any additional manpower and without investment! Surely, a feather in their caps for 'Accepting No Limits'!