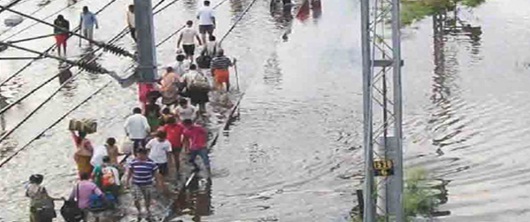 On 19 September 2010, floods submerged Haridwar and damaged connecting roads, including the National Highway-58.

As raw materials could not reach the Mahindra plant at Haridwar, Shashikant Jumde (SCM) and Ashok Kohli (Mahindra Logistics) developed action plans.

Although government and military forces made efforts to rescue the flood-affected people, there were heavy traffic jams around Roorkee. Shashikant Jumde and Isa Ansari mapped alternative routes for small trucks. However, the 80-feet-long Bolero body trailers could not reach the plant.

They camped the night on the highway, strategized, and managed to manoeuvre 40 body trailers out of the traffic jam. With the support of Mr. Sunil P. Misra (Head SCM) and Mr. J.S Gujral (Plant Head), who personally met the District Magistrate and S.S.P, by 'Accepting No Limits', they negotiated the traffic jam for Mahindra vehicles on NH-58.

However, MUSCO Rudrapur and Bolero Chassis supplies from KLT Rudrapur were still stuck in traffic jam. Under the guidance of Mr. Misra, Shashikant and Isa travelled towards Rudrapur and traced out alternate routes via Moradabad.

In the plant, Praveen Shrivastava, Jaswant Singh and Prakash Pandey (SCM), Rahul Dubey (Bolero Production), and Dharmendra Kumar (3W Production) managed the production sequence with available resources, resulting in the highest sales ever and registering 24% overall growth.

Mr. Anand Mahindra said, 'It's only fitting that the RISE mantra emanated from the Auto Sector'. Mr. Rajesh Jejurikar (Chief Executive -Auto Division) quoted, 'Although the floods affected production at Haridwar, and non-movement of trucks crippled supplies, the entire team rose to the occasion and recovered the month plan'.