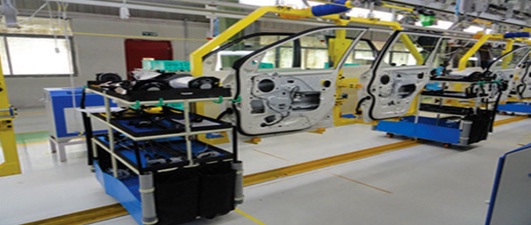 A team consisting of Thomas Hudson, K M Sarma, and R. Shankar of the CME department took up the challenge of finding a better and more cost effective way to complete the assembly of one set of doors for a vehicle.

Currently, in order to accommodate material storage, feeding 72 parts to one side of a sub door, required a minimum width of 2.5 meter on both sides of the trolley, over a distance of 40 meters. The trolley was also required to travel a minimum of 60 meters due to the distance of the storage area from the assembly line. The team challenged the conventional and current, systems and processes, by brainstorming, and came up with new approaches.

They considered the option of using one kitting trolley instead of two. Once that issue was resolved, they focused on the drive mechanism, travel lines, and space utilization between hangers.

Several changes were incorporated, which yielded many benefits in the form of working space, a smaller trolley with better manoeuvrability, improved operator ergonomics, and no additional driving force. These resulted in a saving of Rs 15 lakhs. By eliminating drive mechanisms, running costs were also reduced by Rs 1.5 lakhs/annum.

The 'Alternative Thinking' and proactive efforts of the team, to improve processes, generated large results in the form of productivity improvements, thus, saving organisation time as well as costs.